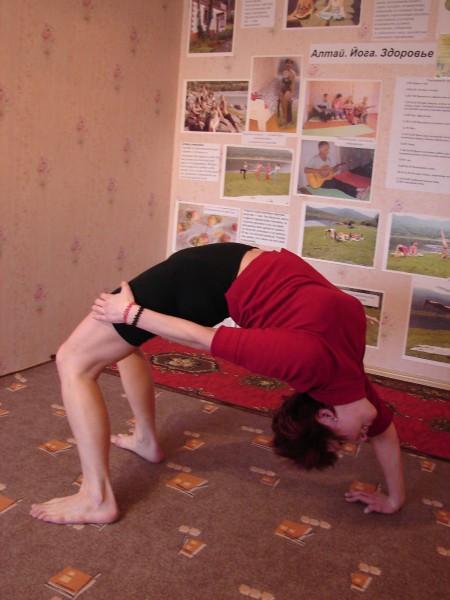 Larisa, 43 years old, Novosibirsk.
When Larissa applied me for consultation, she looked like a 55 years old woman. She was stout and lightly limping. As I learned after, she had a diagnosis of herniated disk and low back pain. Her hernia was not very big – 8mm, but it was so poor located that Larissa could not walk, sit, even lie without pain. The issue about disability and urgent surgery was being considered. 
She tried to practice yoga without changing her diet, but her condition only got worse.
In 2006, Larissa ventured and came to me for passing "Detox" course in Yoga Camp.
The changing a diet only could help her to improve her health condition. That is why she started to eat just watermelons and vegetable juices. In addition, she started to do special yoga exercises to reduce a pain in the spine acceptable for her condition.
On the shared classes, she started with pranayamas and mudras, later continued with asanas for gentle stretching of the spine, even later – with asanas for more intense stretching of the spine and strengthen the supporting muscles.
In 12 days, Larissa lost a weight and looked younger. I discovered that she was fond of hiking the mountains.
On the 8th day, I allowed her to walk with a group to the mountains. After this she began to flee to the mountains right away after lunch, without waiting for other members of the group, she could visit some passes while the slower walkers reached the first one.
It seemed that she could not get enough to do hiking after a long (6 years) forced break. She was unanimously called "Energizer".
In 2007 and 2008, Larissa visited two more my "Detox" courses taking place in the Altai Mountains and Kyrgyzstan.
In December 2008, a medical examination of her spinal showed the absence of herniated disk and low back pain.
She continues to follow a vegetarian diet, sometimes on holidays she can afford to eat some delicious homemade sweets or pancakes.
Yoga therapy is a very reliable way to restore a health. It could be said without an exaggeration that it is a 100% guarantee. However, the necessity to change the diet and to exercise is not attractive for everybody. Therefore, each person gets what he deserve.
Larissa's review
"I came for passing "Detox" course in September 2006. At that moment, I had a diagnosis: low back pain, herniated disk diameter 8 mm, overweight. The issue about disability and urgent surgery was being considered. I could not reach the positive result practicing yoga by myself without changing a diet. In 12 days of staying in the camp, I learned to eat properly; lost weight and my body became more flexible."
December of 2008:
"I practice yoga regularly including complicated asanas, continue to follow a vegetarian diet. A medical examination of my spinal in December 2008 showed the absence of herniated disk and low back pain. No other treatment except yoga therapy not was applied within these two years."